The kids are already talking about it- come join us for a Skating PARTY tonight at Skate Country!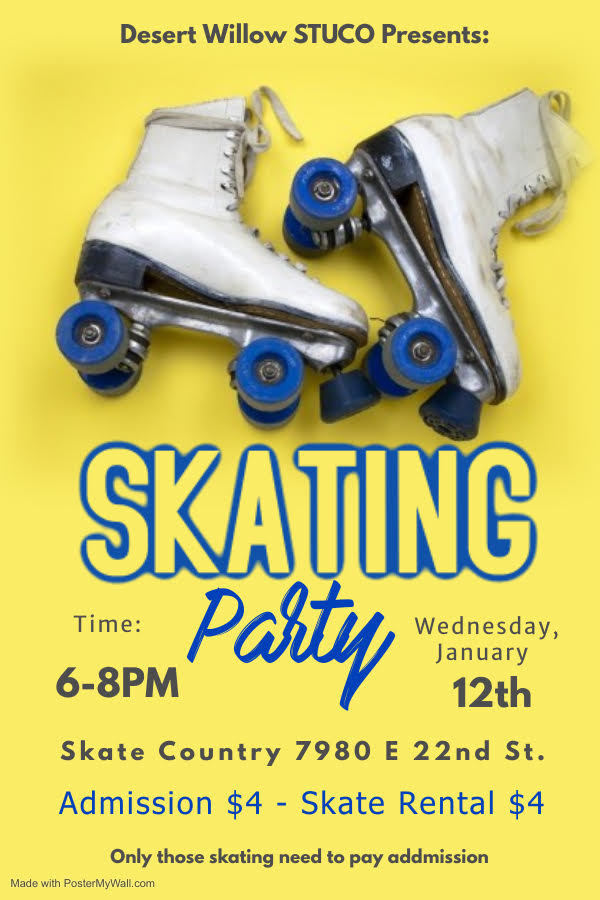 We are in search of judges for our Science and Engineering Showcase in February! Email our volunteer coordinator Natalie Ventura, or scan the code, if you are interested in judging! If your child would like to participate in the showcase, projects are due by February 4th. Visit
https://dwe.vailschooldistrict.org/o/dwe/page/science-and-engineering-showcase
for more information about how to complete a project.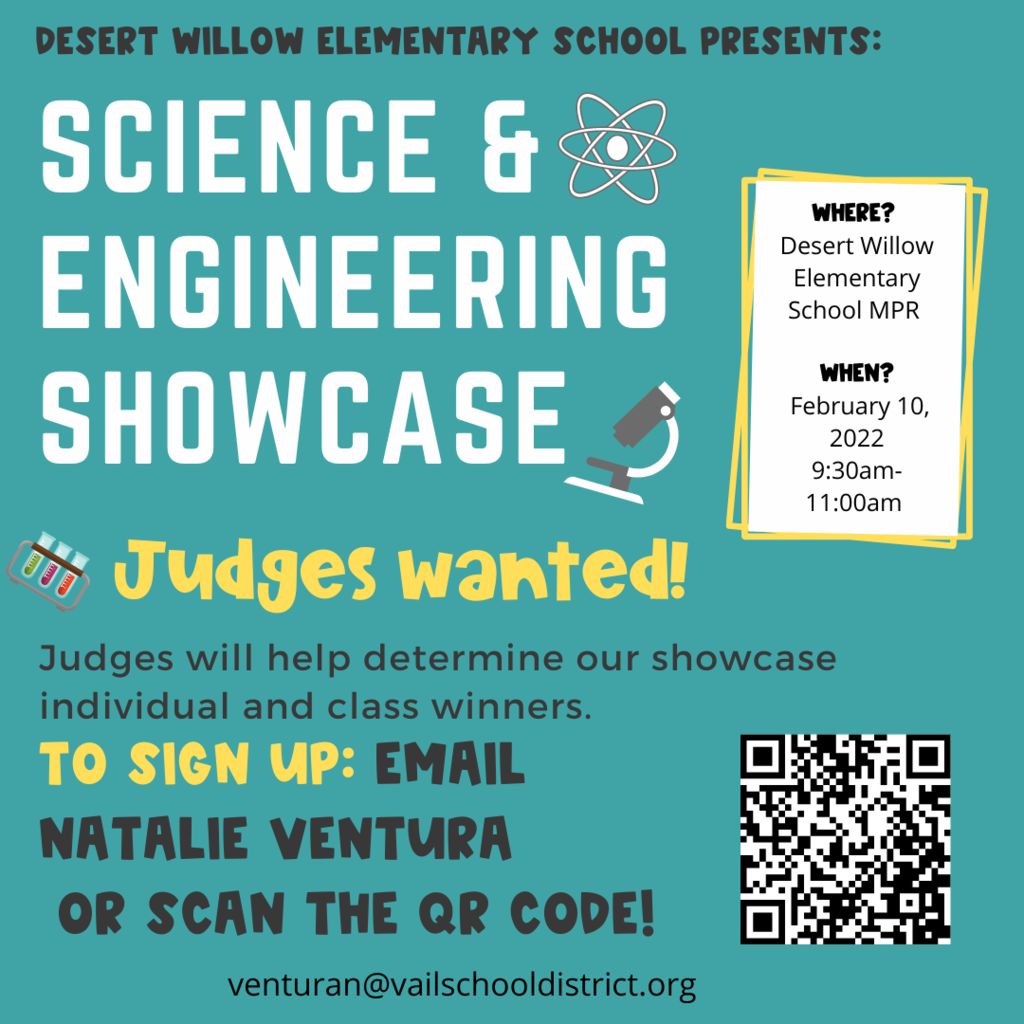 Our STUCO is starting 2022 strong with an amazing percentage night at Freddy's! On January 19th swing by for some yummy food, and be sure to tell the cashier you are there for Desert Willow!
On Monday, December 13 the orders from the Holiday Cheer Catalog will arrive at Desert Willow! Orders small enough to fit in backpacks will be sent home with students, but if you have a large order, parents will need to pick up the order. You can pick up after school on Monday until 3:45pm, or if mid-day works better, you can stop by during school to pick up the order any time after 10am on Monday. Tuesday morning 7:30-8:30am you can also pick up orders. If you need to make other arrangements for picking up your order, please email
DWEPTA9400@gmail.com
.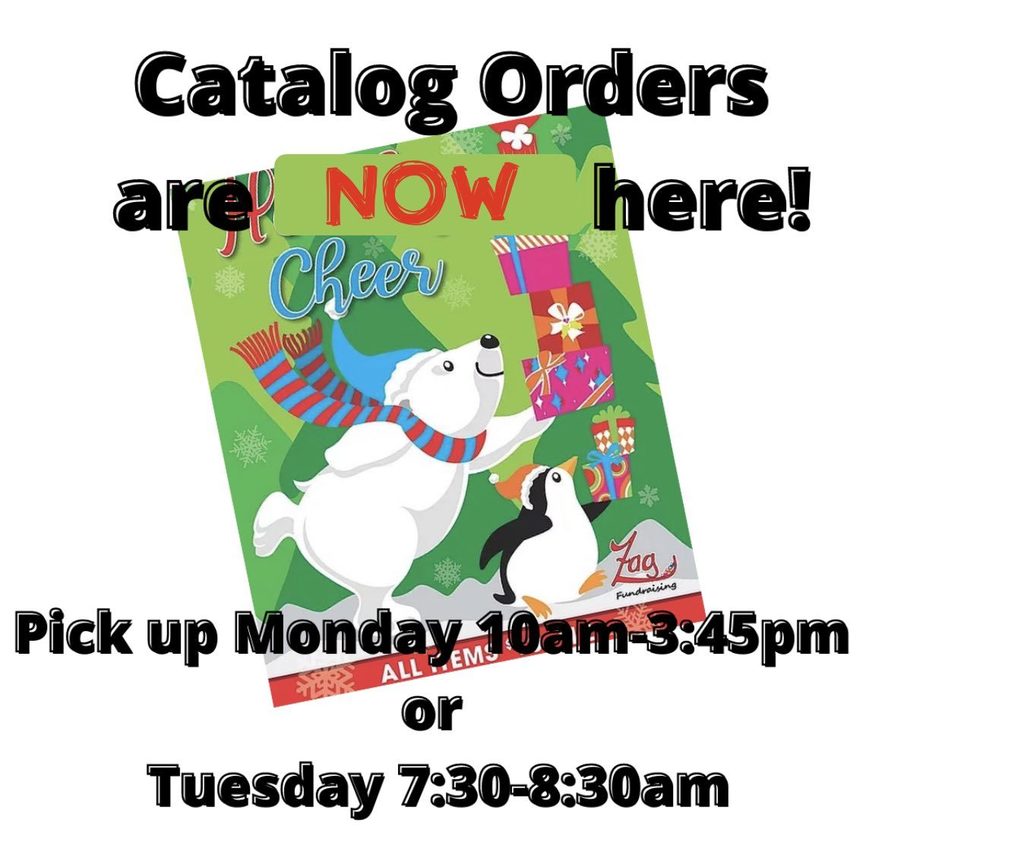 SANTA is coming to DWE tonight (that must explain this cold weather!). Snap a pic with Santa, enjoy some treats and crafts, and do your holiday shopping all in one place. We hope you will join us!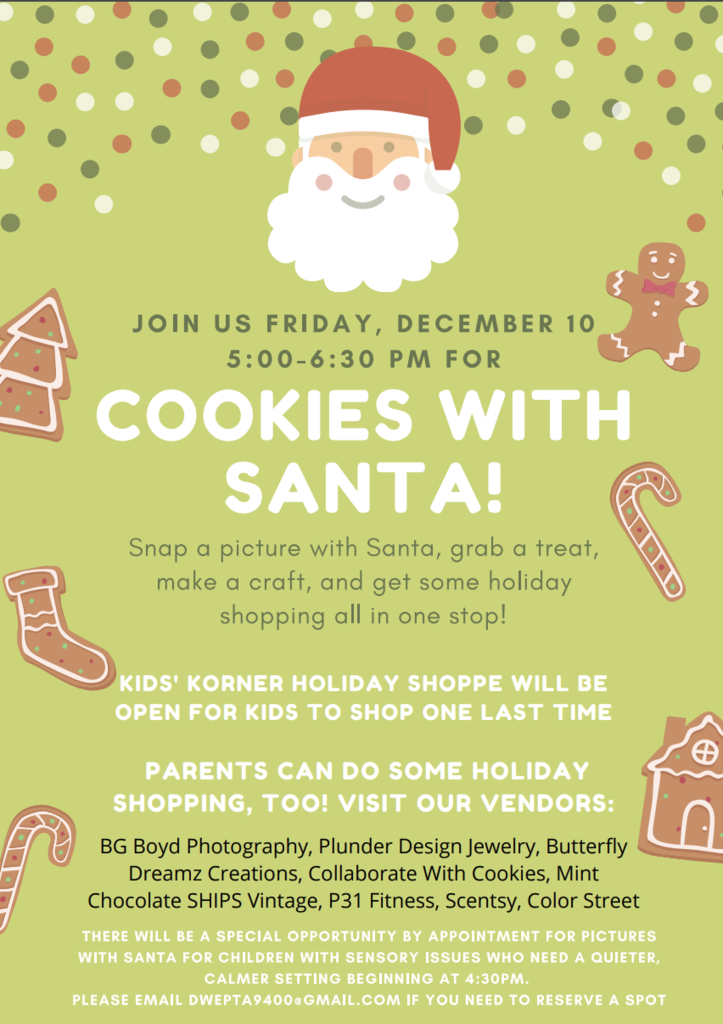 We have successfully completed our practice lockdown drill (12/9 9:30am). This is an important safety drill but we recognize that it can also be somewhat scary for children. The DWE teachers and staff will ensure that students feel safe before, during, and after the drill.
We are currently conducting a practice lockdown drill (12/9 9:24am). Please note that during the drill, office and classroom phones will not be answered and parents/visitors will not have access to campus. This is an important safety drill but we recognize that it can also be somewhat scary for children. The DWE teachers and staff will ensure that students feel safe before, during, and after the drill.
Sometimes the best mid-week treat is not having to plan making dinner! Our STUCO is hosting a percentage night at Eegees @ Old Vail Rd tonight from 5pm-9pm and 15% of the proceeds go toward Desert Willow!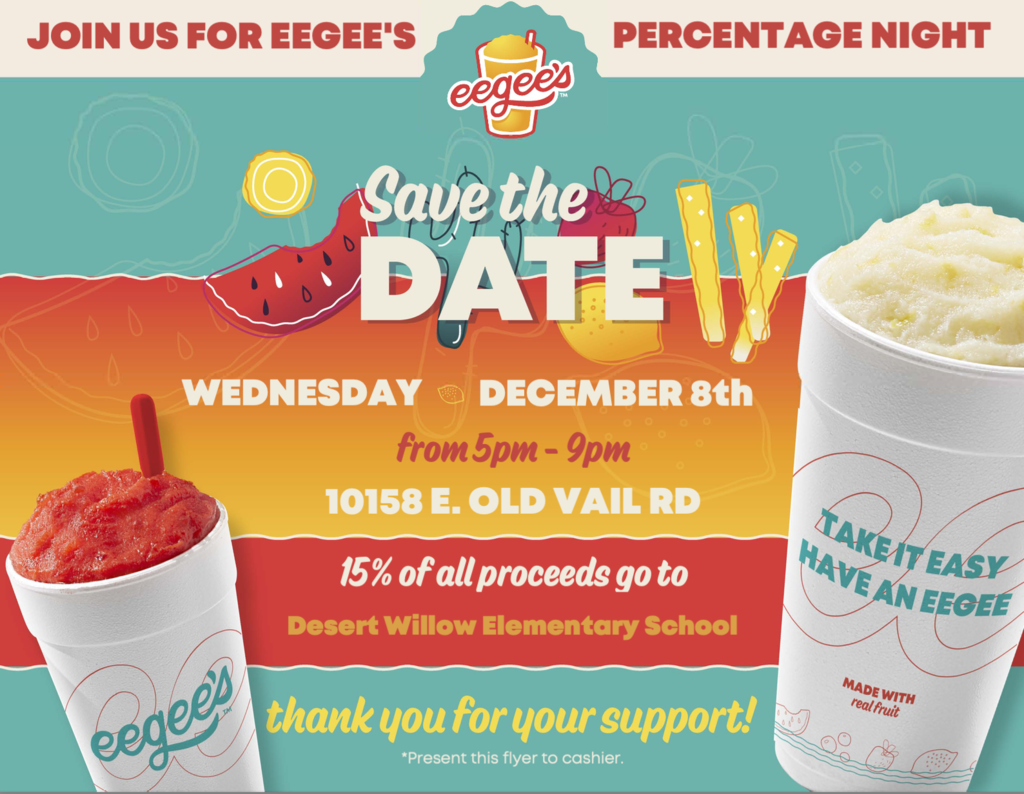 Last Friday (11/19) all DWE students in grades K-5 participated in our Science and Engineering Day. We want to thank our dedicated teachers for planning fun, educational, and engaging projects for our young scientists and engineers. We also want to shout out our amazing volunteers for lending a helping hand! If your child would like to complete their own project for our Science and Engineering Showcase please see more information here:
https://dwe.vailschooldistrict.org/o/dwe/page/science-and-engineering-showcase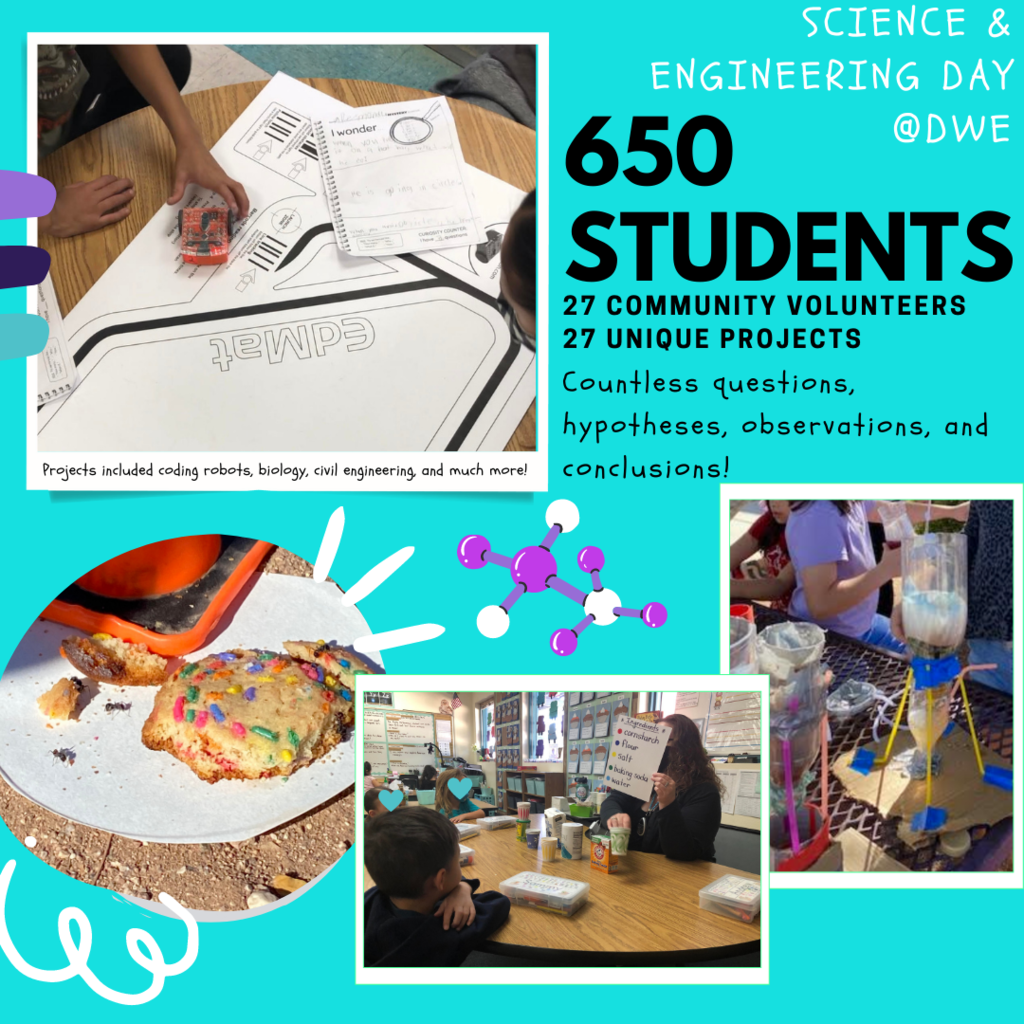 Join us tonight for our Reading Under the Stars event at DWE! Bring a blanket and a flashlight and read your favorite book with your family. The Cienega Astronomy and STEM club will be showing night sky objects through their telescope, and Vail Coffee Stop will be selling coffee, cocoa, and cider for $2 (cash only). We will also have a free book giveaway, crafts, and read alouds!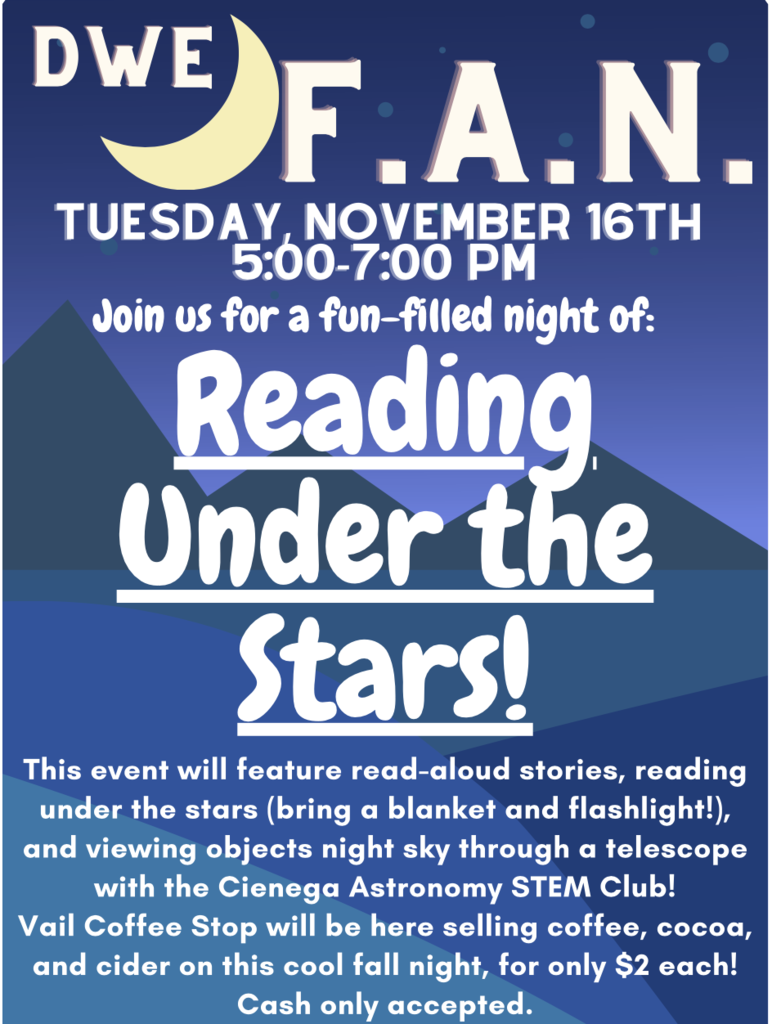 We want to send a huge thank you to our PTA and to all the families who participated in the Read-a-Thon! Thank you for all of your support! The students loved being able to slime their principals! Thank you also to Mrs. Forgacs and Mrs. Owens for being such good sports!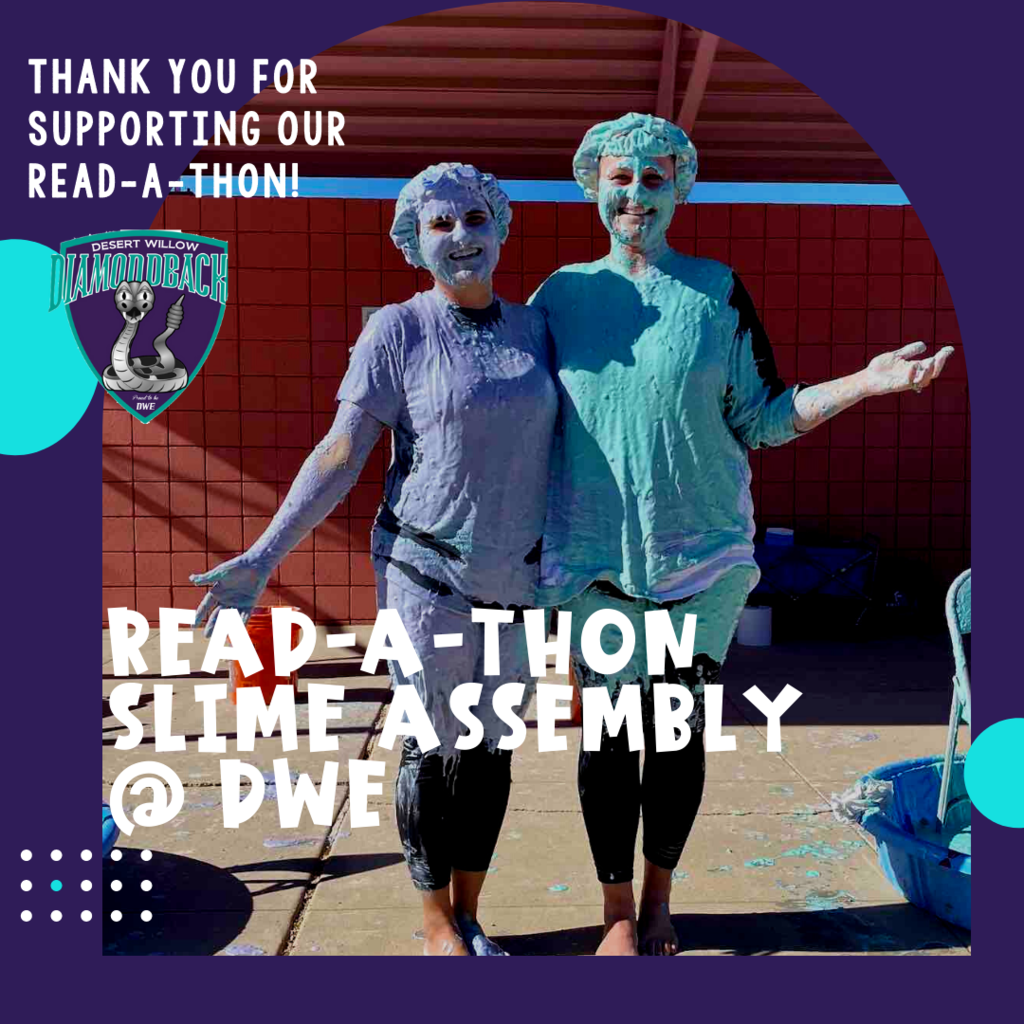 There will be no school on Thursday, November 11 in observance of Veterans Day. Our front office will be closed. School will resume on Friday.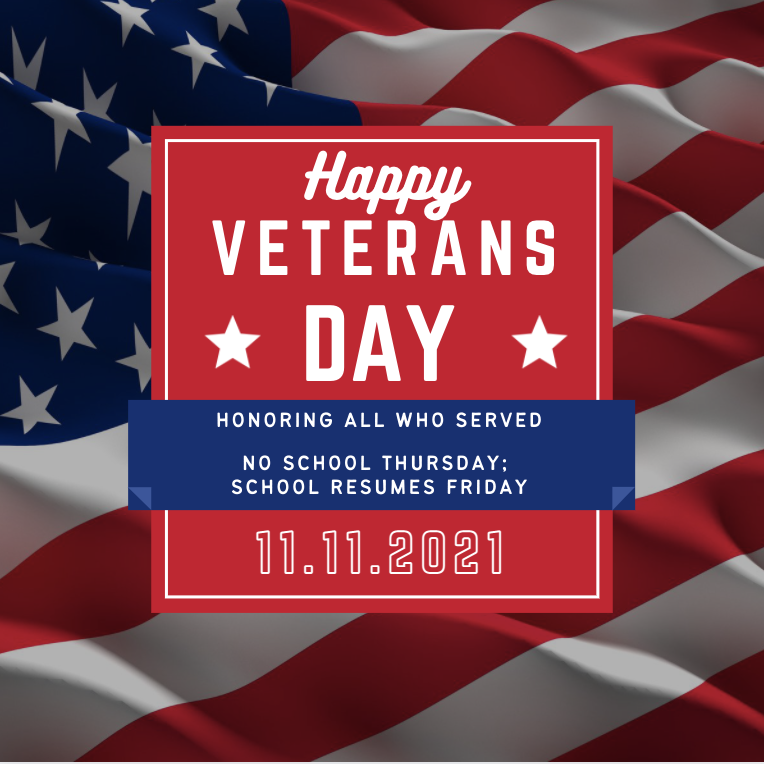 Our DWE PTA has been staying busy, and we are so grateful for them and all the amazing things they do for DWE. Check out everything they have been doing in their November Newsletter:
https://5il.co/11f0u
What is something you are grateful for?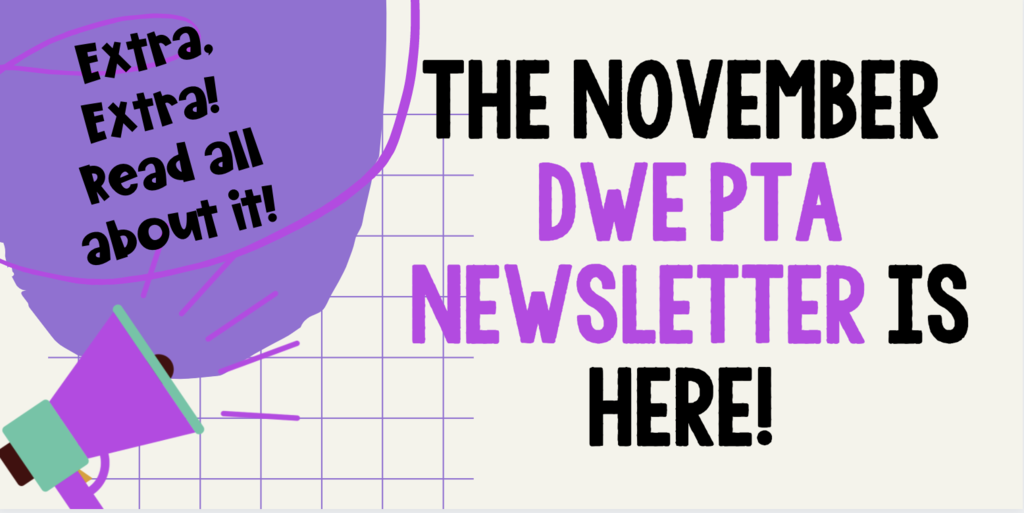 If you haven't already put your ballot in the mail it is too late to do so. Ballots must be dropped off tomorrow, November 2nd between the hours of 7AM -7PM at Christ Lutheran Vail: 14600 E. Colossal Cave Road, Vail, AZ 85641 or at the Pima County Recorders office. (See map and location below).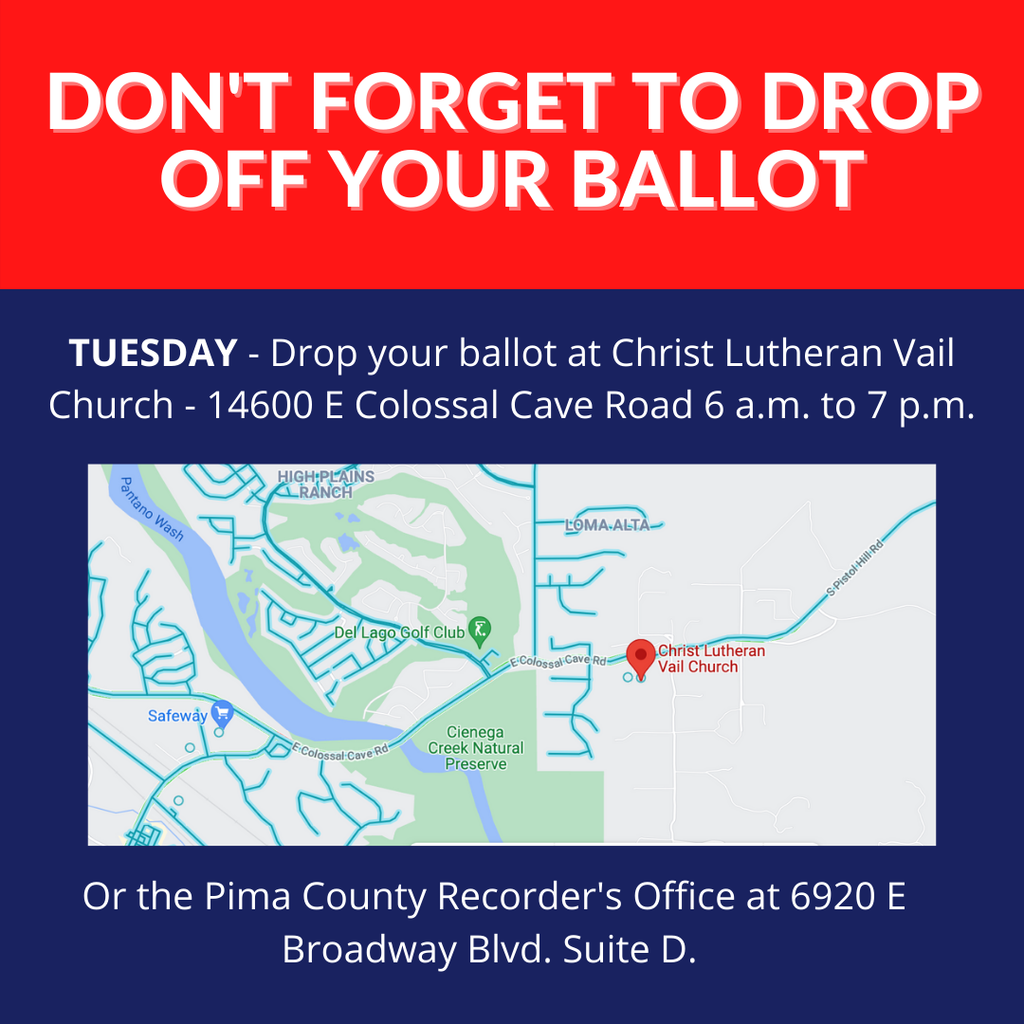 Our PTA Holiday Fundraiser runs from today through November 12th. The online store is at
www.ZagFundraising.com
and after selecting "online store" just enter our Group ID which is DWL21. It includes a catalog of great holiday gifts including fully customizable metal water bottles with a DWE etching, or other designs. Students can share the store online with friends or relatives that don't live nearby. We appreciate your support!! Starting Wednesday morning there will be a table in front of the office for students to bring their coupons to get their prizes. In addition to the prizes they get for selling items, there will be drawings from the coupons that have been turned in every few days. For those who sell more than 10 items they will be entered into a special drawing for a giant stuffed hamster.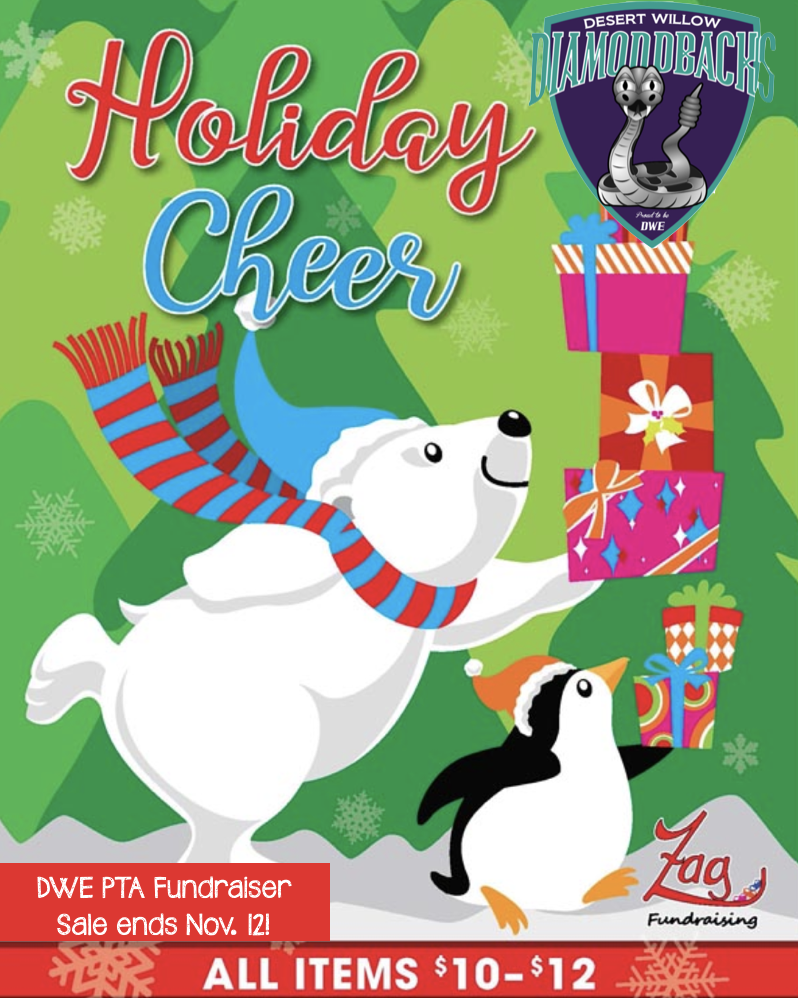 Trunk or Treat at DWE is happening tonight starting at 5:30pm! Kids of all ages can "trick or treat" and we will also have pizza, a photo booth, and our tile art fundraiser! Stop on by for a spooky good time!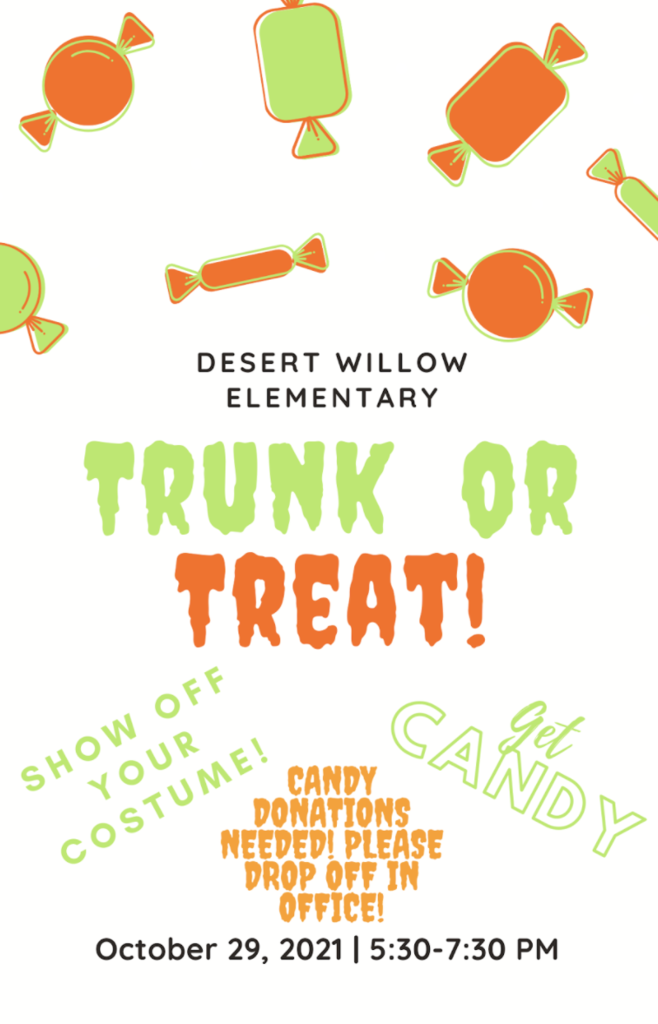 We are excited to host our VIRTUAL Book Fair this week
https://www.scholastic.com/bf/desertwillowelementary
! Not only can you purchase new and exciting books for your child, but when you make a purchase at the book fair the proceeds go toward purchasing new books and equipment for our library, too!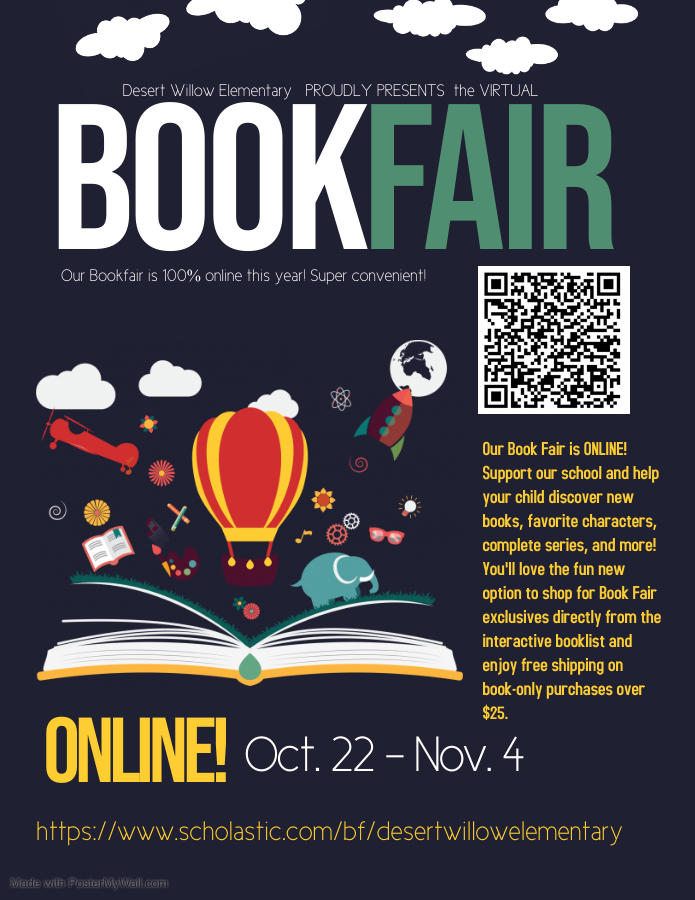 Join us for Make a Difference Day tomorrow from 8:00am-11:30am! Help us beautify our school and connect with friends from our community!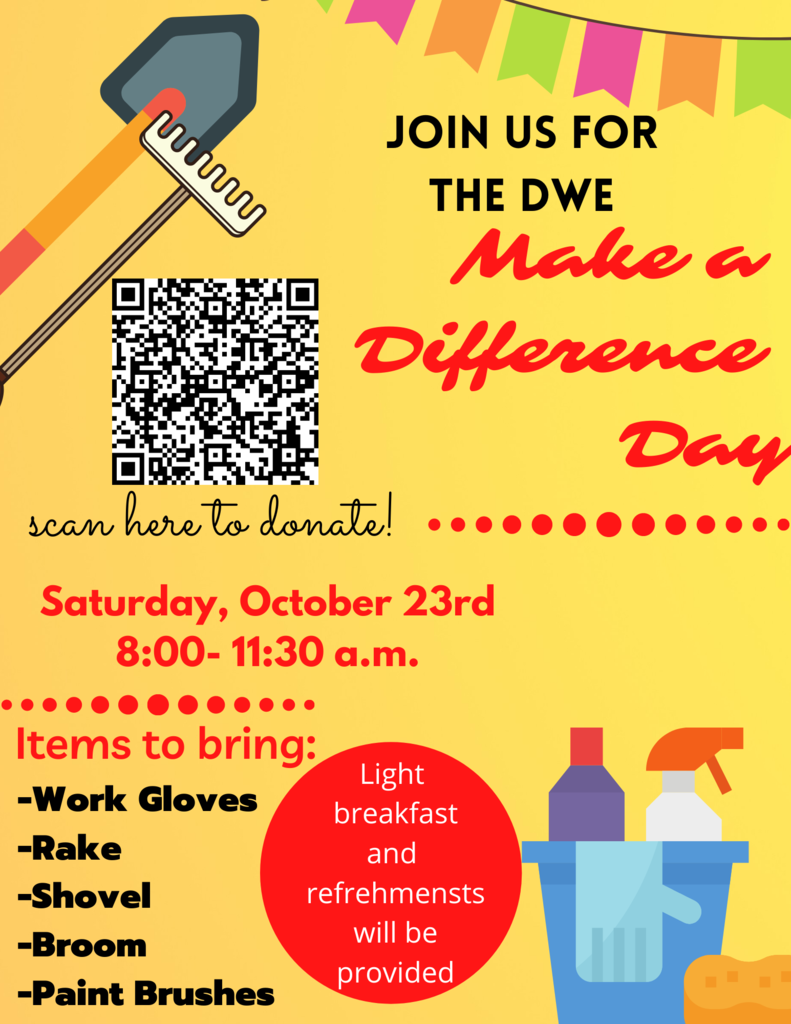 Do you have dinner plans this Wednesday? We sure do! Enjoy a tasty and convenient dinner at Wienerschnitzel and some of the proceeds will go toward providing items for our school! Bring the flyer and be sure to mention DWE!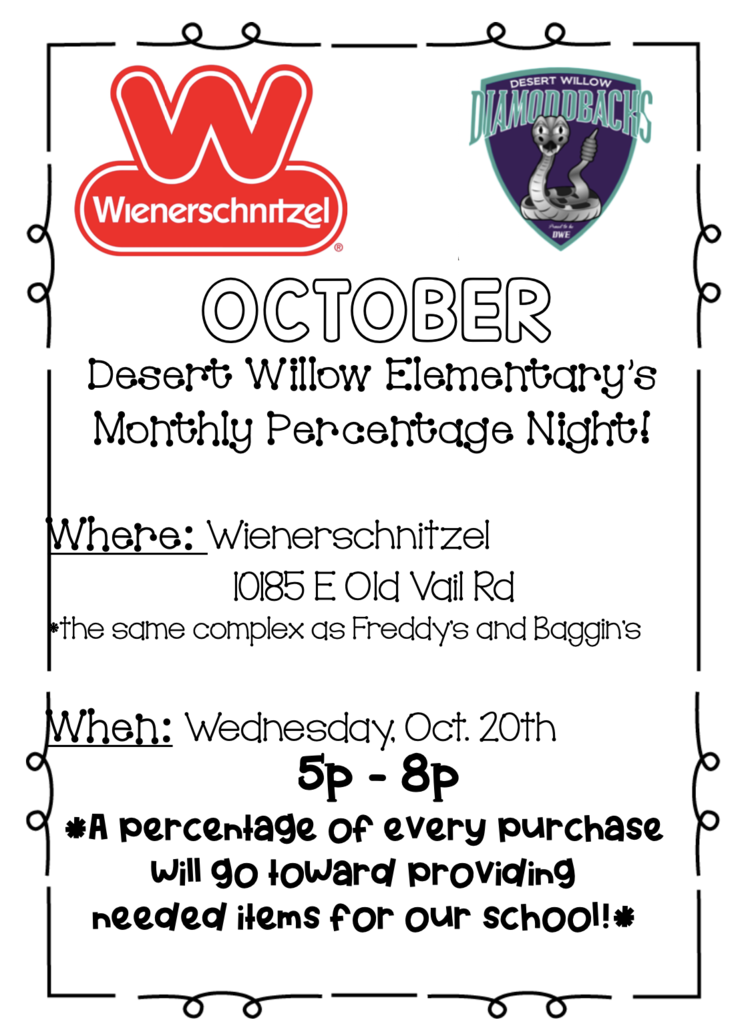 We are fortunate to have a PE teacher who models healthy living through active and fun lessons! We love Mr. Rabago!